TheBookSearch (aka DieBuchSuche) - the search engine for all books.
All books for 9788408171225 - compare every offer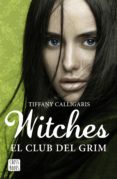 Witches 2. El Club Del Grim (ebook)
(?)
ISBN:
9788408171225 (?) or 8408171224
, in spanish, Grupo Planeta, New
From Seller/Antiquarian
la Vida De Madison Ashford Ha Dado Un Vuelco En El U?ltimo An?

o.

No Solo Encontro? Al Amor De Su
Seller order number: 5290774
Category: e-Book, Ebook, e-Book
Data from 10/03/2017 01:54h
ISBN
(alternative notations): 84-08-17122-4, 978-84-08-17122-5
9788408171225
Find all available books for your ISBN number 9788408171225 compare prices fast and easily and order immediatly.
Available rare books, used books and second hand books of the title "Witches 2. El Club Del Grim (ebook)" from Calligaris Tiffany are completely listed.
euromünzensammelalbum die adipositas kur download